Scholarships for Qassim University 2022 are now accepting applications. Quality education, highly qualified faculty, and continuous curriculum improvement have made Qassim University's College of Computers well known. Studying in Saudi Arabia has never been easier for international students from all over the world.
Computer engineering, computer science, and information technology are some of the subjects that Qassim University is offering scholarships for in the academic year 2022. There are several sub-branches within each of these subjects. For international students, Qassim University's College of Computer Science provides a full-fledged scholarship.
Students who are interested in a career in technology are invited to apply for this Saudi Arabian scholarship that is fully funded from the start. It is the university's responsibility to cover the students' educational costs while they are there. In addition to tuition, the institution will cover the cost of lodging, health care, and travel. The following are some specifics about the Saudi Arabian Scholarship Program for 2022 that is fully funded:
Antalya Bilim University  Scholarship 2022 application may be in your future. If this is the case, you may submit your application here:
Details About Qassim University Scholarships 2022 
University:

 Qassim University

Country

: Saudi Arabia

Educational Level

: Masters

Finances: 

Funded

Deadline

: 

31st January 2022
Also, Check List of Summer Internships in Germany 2022
Fields Available
Following fields and majors are offered in Qassim University Scholarships 2022: 
Computer Engineering

Cyber Security

Informatics

Computer Sciences

Information Technology
Financial Benefits
There are a number of advantages to the scholarship program, including the following:
Applicants will get a monthly stipend to cover their daily expenditures.
The university will pay for your tuition.
A 60-day grace period will be granted.
Providers of health care will be on hand to assist
Research and instructional sessions may be added at any time if desired.
All necessary accommodations will be supplied, and an equal amount of money will be paid in the event that none are available.
Also check, KPIT Board Paid Internship 2022
Eligibility Requirements
Cadnidates may only apply if they meet the following criteria:
 Minimum grade point average of 3.0
The TOEFL language exam requires a minimum IELTS score of 5.5 or 6.0; its equivalent is also acceptable.
At the very least, two letters of recommendation

Official and certified transcripts of bachelor in science degree

A bachelor's degree in computer science, information technology, or a related discipline is required for consideration.
A copy of the passport of the applicant.
There may be other certifications that must be obtained from the website.
Application Deadline
Quassim University College of Computer Scholarships for 2022 are now being accepted till January 31st, 2022. Make sure that you submit your application form before the due date stated.
Application Procedure
To be considered, you must submit an online application before the deadline of January 31st, 2022. Candidate performance in previous positions will be the only criterion for selection. Check out the ad below for more information and applications:
Qassim University college of computer scholarship Advertisement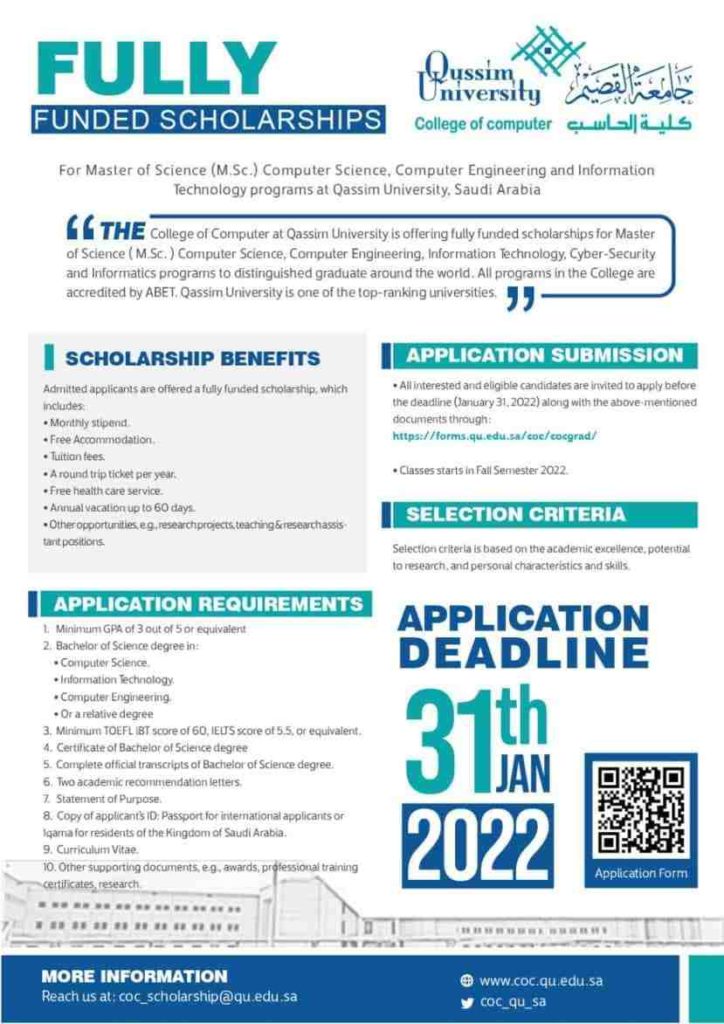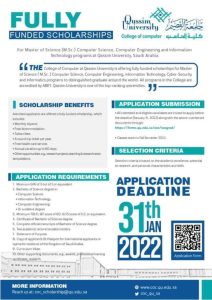 Note: We also encourage you to interact with our resources &  Follow our Whatapp Group , Facebook Page, Telegram Group ,Twitter, Instagram , Youtube Channel